The sauna market is heating up. A staple of Nordic living that began some 2,000 years ago in Finland, the practice of sweating it out is attracting the masses for its myriad benefits, real and perceived: Think detoxification, pain relief, improved cardiovascular and immune function, and a sense of relaxation. (In fact, during the pandemic, one sauna stove brand reported a surge in sales by 221 percent.)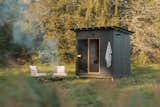 Now, on the back of this trend, U.K. design-build firm Out of the Valley, known better for its cabins, is offering sleek, customizable saunas. "Since Covid, people have become more aware of personal health," conjectures founder Rupert McKelvie of the company's decision to expand. "People are also holidaying less, so rather than getting a dose of heat and well-being from travel they are looking to get it in their own backyard."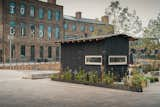 While there are already plenty of backyard saunas to choose from, McKelvie felt there was an opportunity to elevate the experience with a design that echoed the ethos of Out of the Valley's Nomad Cabin. "We live in a very cluttered, busy world, and well-considered spaces mean a user feels calmer as there is less to distract the eye," he explains. "There are continuous, fluid lines, no fussy details, and careful junctions between materials."
Out of the Valley's sauna models include the Forest, Hive, and Mountain, each varying in size and layout. But the company prides itself on being able to adapt them to suit specific needs, or create entirely bespoke designs.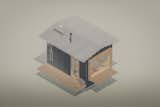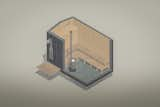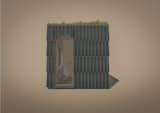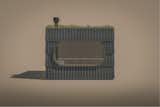 The saunas have a heat range between 160 and 190 degrees Fahrenheit, and can heat up within 30 to 45 minutes, depending on the model. Sheep's wool insulation and high-quality timbers like alder, cedar, thermo pine, and aspen help keep them at temp. "We heavily insulate our saunas so the heater doesn't need to be on all the time once it heats up," adds McKelvie.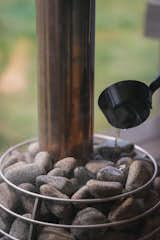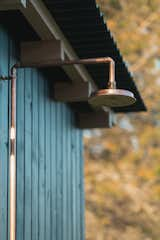 Each of the models has large windows that allow users to connect with the landscape, but they can be reduced in size for urban areas where privacy is a priority. The saunas are meant to be craned into place, or delivered in panels and assembled on site where access is limited. According to McKelvie, due to the sizes of the saunas, permitting and planning often isn't required for installation.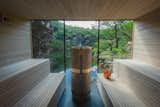 Interested buyers can expect to spend $28,000 for a smaller off-the-shelf model and as much as $62,000 for something more elaborate or custom. Out of the Valley says most of its clients are located in the U.K., but that it has recently launched in the U.S. with a manufacturing partner in California, and has even installed projects in the Catskills in New York.
"It's so rewarding getting the saunas on site," says McKelvie. "To see how it fits into the landscape and to feel the heat on a cold winter's day is lovely. It's the moment that the sauna becomes alive."