During Miami Art & Design Week 2022, globally recognized and celebrated artist and architect Suchi Reddy, founder of Reddymade Architecture and Design, unveiled her first public project in Miami created in collaboration with Lexus. On view through December 11th, the futuristic installation named "Shaped by Air" greets visitors at the Institute of Contemporary Art, Miami (ICA Miami) and draws inspiration from the Lexus Electrified Sport's approach to vehicle design.
The site-specific installation made of post-consumer materials of steel and aluminum depicts Reddy's interpretation of a vehicle that's moving through nature. Organic, leaflike shapes in a vibrant green are reminiscent of the cutouts of Henri Matisse and echo the natural setting of the garden. To enhance the experience, cooling mist and warm light envelope the installation, creating an ever-changing environment.
After being greeted by "Shaped by Air," visitors can continue walking through the garden and rest on eco-terrazzo benches inspired by the tail end design of the Electrified Sport vehicle. These restful spots double as wireless charging stations powered by a solar-charged battery.
The collaboration between Reddy and Lexus represents both party's human-centered approach to design while continuing to evolve the technologies of the future.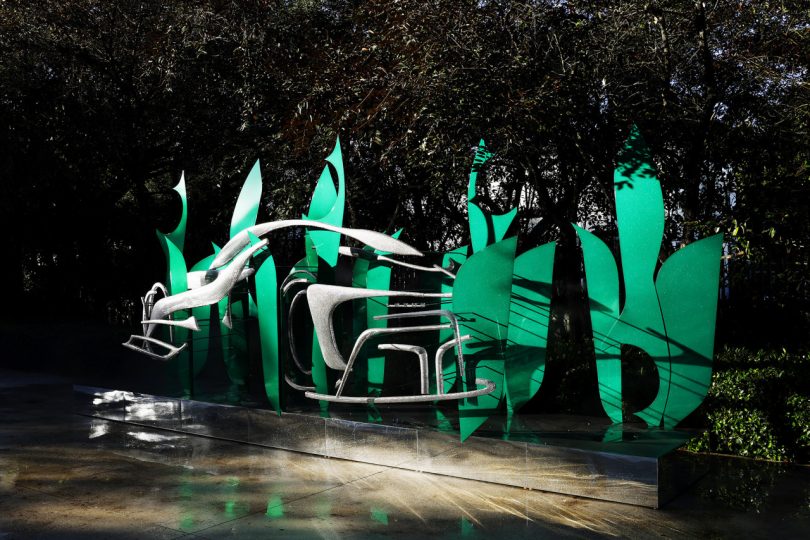 Photos by Steve Benisty.