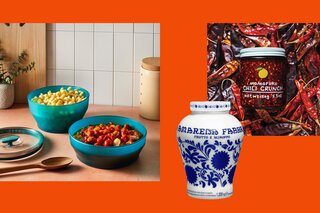 The holidays are a home cook (excuse me, a home chef)'s time to shine. From elaborate side dishes based on the idea that traditional favorites like green bean casserole would be even better if they were deconstructed to holiday parties where the theme is "I wanted to make a terrine, so I did, and now we're all here to admire it," they're showing off and showing out—and you, if you happen to be friends with or related to such a person, are reaping the benefits in the form of delicious snacks, meals, and drinks you'd never think to make on your own. But what to give such a person? They already have the basics and then some, which is why you have to get creative: elegant garnishes, tools for adding fresh spices and extra flavor, and gadgets some of us (OK, me) would be a little intimidated by.
The bests gifts are ones that say, "I see you for who you are and I celebrate that," which is why we've put together this list of giftable (and in some cases, edible) items that let the Top Chef in your life know you simply can't wait to try their next culinary creation.
A kitchen workhorse 
Pair with a big jar of peppercorns (perhaps these, which look like little pearls of caviar) for when they want to make a cacio e pepe even the most discerning Roman would devour.
Add some joy to your Dauphinoise
Is there anything more cheerful than a tomato? I would argue that there is not, which is why I'd gift this casserole dish—it's quirky but not too over-the-top whimsical—to myself.
A sturdy tool that also functions as art
A chic, sleek mortar and pestle for muddling and crushing.
A good shortcut that isn't takeout 
Even the most chef-y chefs have off nights, which is why this pack of condiments is so genius. Whether they use one or mix them all together, they'll add flavor to simple pasta, meat, and vegetable dishes for an easy dinner that still tastes special. 
Avoid accidents!
If anyone in your life has ever spent New Year's Eve watching the ball drop on a small TV in the emergency room thanks to a hand burned on a very hot pan holding filet mignon and onions finished in port (hypothetically), give them this.
Make it nice  
Not that they would forget an ingredient, but just in case, this herb garden can live on a windowsill or a kitchen counter, putting a sprinkle of chives or a quick parsley garnish within arm's reach at all times.
A good way to flex when they're not in the kitchen.
So at everyone at the Farmer's Market will know they have impeccable taste. 
They can throw out their old takeout containers. 
If I've learned one thing from watching hundreds (thousands?) of hours of food TV over the course of my life, it's that no one—not even Michelin-starred chefs!—is too fancy to use the microwave. This set is much more glamorous than plastic containers from the grocery store, and they'll love crowing to guests about the elaborate feast they made all with the touch of a button. 
A fancy midnight snack
This blue-and-white jar will look great on counters, and the cherries and syrup inside are perfectly sweet and tart poured over vanilla ice cream for a dessert no one has to think too hard about. 
Hone their weapons. 
People who love to cook are obsessed with their knives—it's a whole thing! This compact sharpener will keep them occupied for a while. 
Make it artisanal—like, really artisanal. 
Churning your own butter is surprisingly easy, and they'll love the chance to incorporate fresh herbs (see above), shaved truffles, or a dash of maple syrup for slathering on…anything and everything.
Give them a break. 
Perhaps the most important lesson I have ever learned from Ina Garten: during cocktail hour, serve things you don't actually have to cook! I like these in a silver bowl, but I also like them directly out of the tin.
For their no-knead bread side hustle.  
For the family member who felt not-so-secretly annoyed when everyone got into making their own bread.
Another nice snack
I saw this on Shark Tank a few months ago and immediately ordered one—now, I have a constant supply of freshly-fermented kimchi to throw into scrambled eggs, leftover fried rice, and eat directly out of the jar with a fork. 
Some teeny tiny spoons for all your teeny tiny spoon needs  
Pair these with a jar of smoked salmon roe (or actual caviar if you're working with a Champagne budget—don't forget the Champagne!). 
We love the products we feature and hope you do, too. If you buy something through a link on the site, we may earn an affiliate commission.